Making Motorsports Accessible for Disabled Drivers
We are Baronmotorsports
Steve Gill and Matt Kitson set up Baronmotorsports in 2011 following Steve's frustration at trying to get access to try a range of motorsports experiences. – Always the passenger, never the driver.
Baronmotorsports is a registered charity and our aims are simple:
To lobby motorsports providers, services and government to ensure equal access to motorsports experiences for disabled drivers;
To provide opportunities for disabled drivers to experience motorsports from the driver's seat.
With the help and support of some amazing people, companies and grant providers we are now able to offer driver experiences in an adapted Track Day Car, 320cc Pro Kart and a saloon car for autotests and autosolos.
We are always looking for new opportunities and support, so please get in touch if you can help us to further the cause.
All the best
Steve and Matt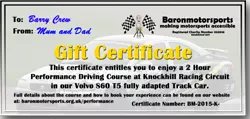 Gift Certificates are now available for our Performance Driving Course at Knockhill Racing Certificate.  Buy online now in time for Christmas.
Current News